A recipe for happiness? The answer is simple – hardening! Proof? "Quartet of Happiness" – four hormones (dopamine, oxytocin, serotonin, and especially endorphins), which the body releases during hardening, and these lead to a feeling of joy and euphoria. Clear as can be! Wait, wait! Tame the excitement, don't run for that swimsuit and towel yet! Read on first.
The hardening "beach season" lasts in these geographical conditions at open water temperatures (less than 12° C) from the beginning of October to about mid-May, i. e. almost eight months. Which is great because hardening is so very much addictive and just imagine that you would have to quit before you started! "Dependents" hardening persons from the sports club in Dobšiná, Trout of the Slovak Paradise, Čaňa Ice Swans, Košice Seals, Šírava Beavers, and Gemer Icebreakers would be able to tell you about it! During the season, they meet two or three times a week armed with axes, saws, swimsuits, neopreon shoes, hats, towels, hot tea, and especially with determination and a great mood, to break the ice together, fight in freezing water between ice floes to chill in the very region of the world: at Palcmanská Maša and in the Hornád Gorge in Slovenský Raj, in Indian Lake near Rožňava, on the river Slaná, in Lake Úhorná, in Betliar Pond, in Zemplínská Šírava, in Čanianske Jazerá lakes, but also directly in the metropolis of East, Nad Jazerom. The most incredible adrenaline-endorphin experiences you may share with others from now on are from Santa Claus carnivals in the water, Christmas parties among the ice blocks, farewell to the old year in the darkness of the forests lit only by white snow and ice, from Valentine's water dances, but also from weekends and ordinary hardy afternoons loaded in ice and dissolved in pleasantly freezing water. So, you have read it all, now quickly pack what you need, call one of the hardy zoo, make a deal, and run after them. Or – if you're a lone wolf – so be it! And most importantly – get ready for such a dose of endorphin happiness that you have never experienced before!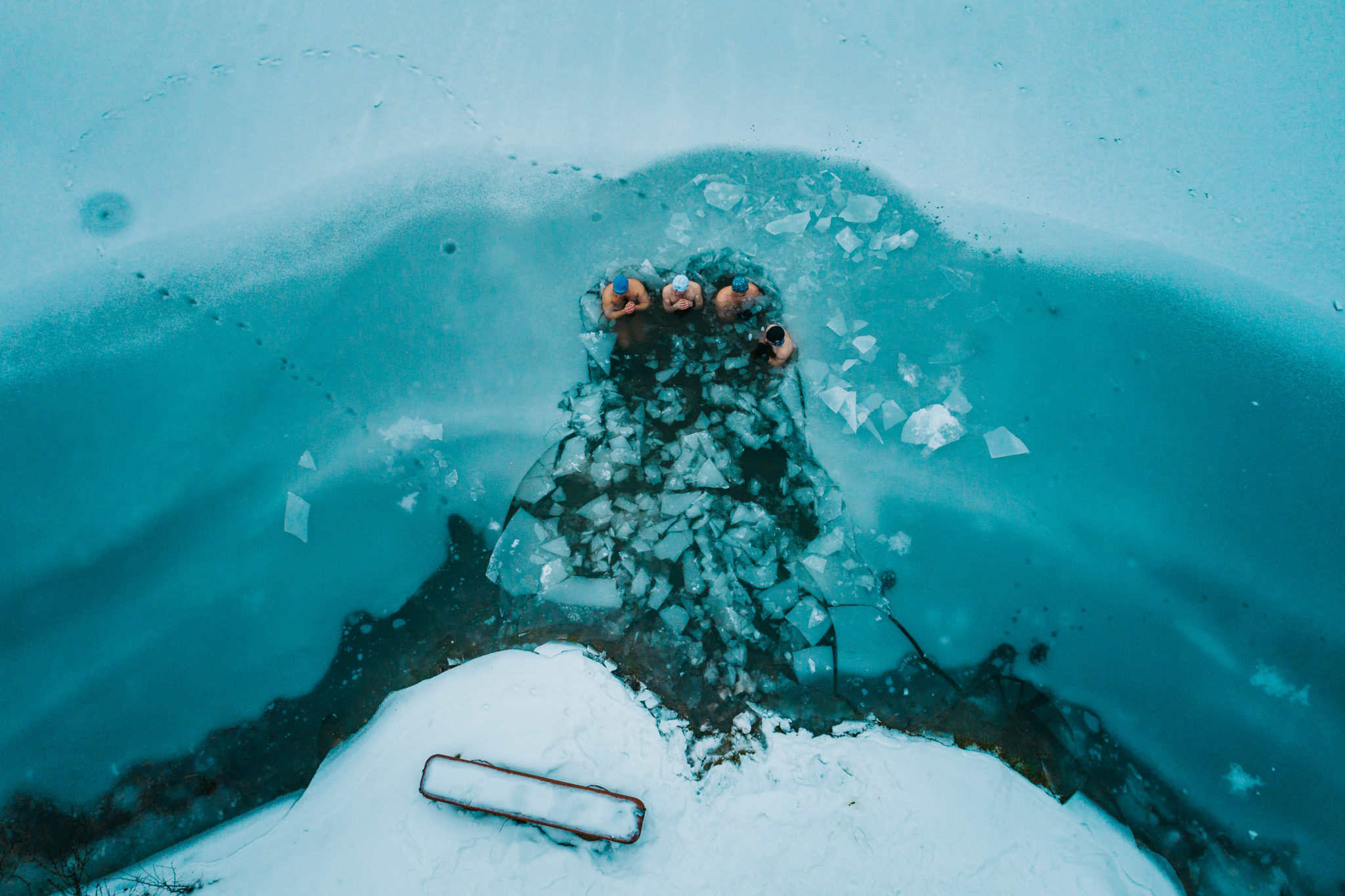 1. Cooling down at the EDGE OF THE WORLD
ŠK Dobšiná – enthusiasts from Raj, Palcmanská Maša
Wrap yourself in a warm blanket, put on thermal socks and sip a hot teacup on the couch lazy – isn't that your idea of ​​a winter idyll? Would you rather "chill" differently, so literally? Great! We have the exact opposite for you! Cool off in Palcmanská Maša – the coldest and highest water reservoir in Slovakia (almost 800 m above sea level), all the way to the edge of the world, right in the Paradise! Thus, more precisely, on the southeastern edge of the Slovak Paradise National Park. The water in Palcmanská Maša is refreshing and wonderfully clean. This is because the Hnilec River – don't be fooled by its unattractive-sounding name, is just a cover-up maneuver – which feeds the water reservoir, springs only a few kilometres from there at the foot of Kráľova Hoša and creeps through unspoiled nature into the dam. And then you can imagine the fabulously transparent ice shell through which you can see Maša all the way through the winter?
So don't hesitate, alone or with other enthusiasts from ŠK Dobšiná – a cap on your head, neoprene slippers, taking off everything else except a swimsuit and a neckband, and jump in the water! And if it just happens to freeze outside, it shakes so much, and you have to "work your way down" to the water, don't be discouraged! On the contrary, take a bath and axe your own "swimming pool" on the ice beforehand. The endorphins that will overwhelm you with the feeling of victory when you come out of the water after a few minutes are worth it!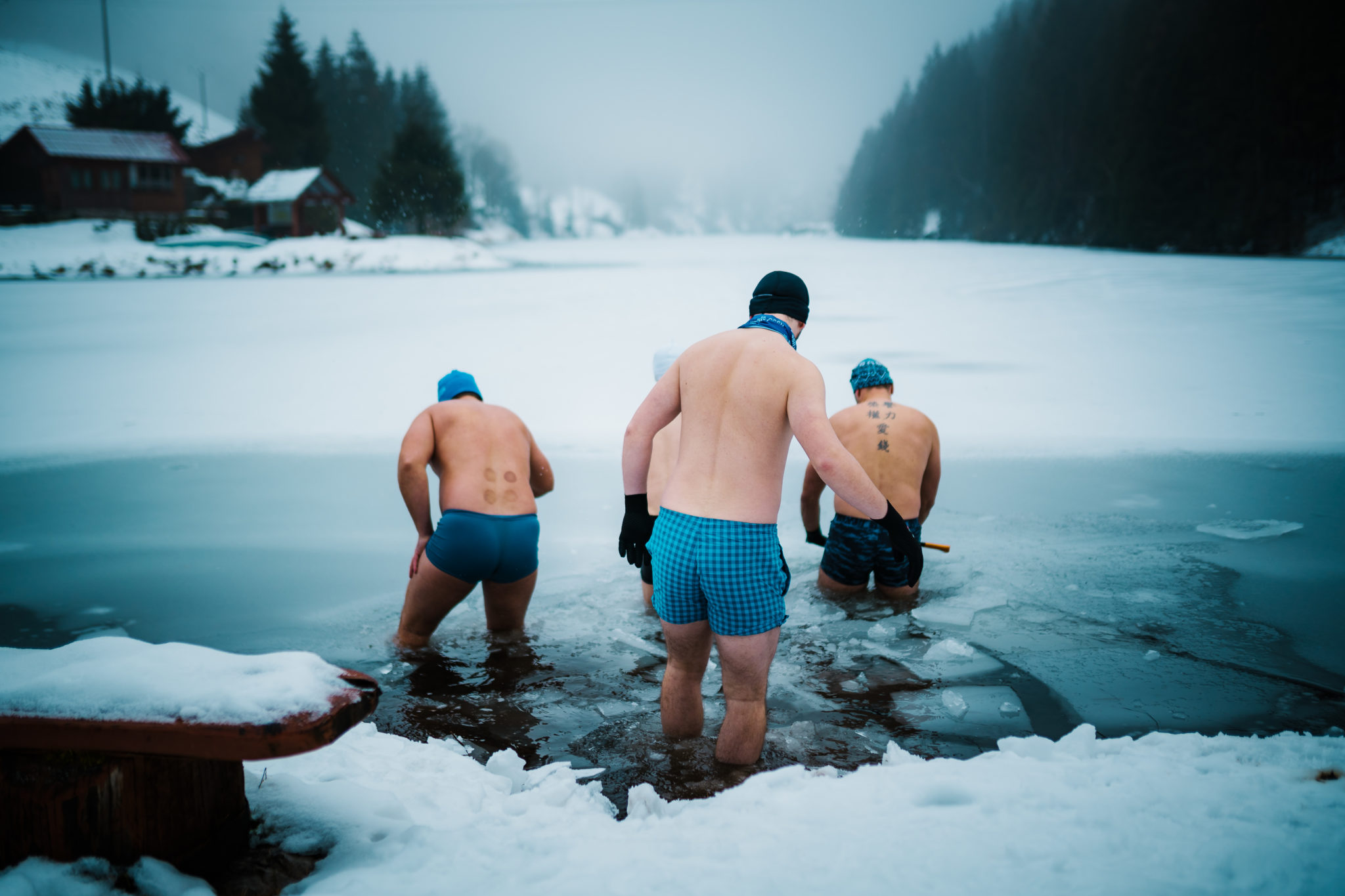 2. Swimming among ice blocks
Trouts of the Slovak Paradise, Hornád Gorge
Brown trout, rainbow trout, hardy trout. They all live in the waters of Hornád. The last one, the hardy trout, even has one favourite place – the Green Footbridge in the enchanting and inaccessible-looking gorge of the Hornád Gorge in the Slovak Paradise. But let us now finish mystifying: The hardy Trouts of the Slovak Paradise are enthusiasts diving into the cold, even icy waters of Hornád. In cold water, Trouts from Spiš feel like fish in water! There are several dozen of them and they like to welcome other enthusiasts, even if only "occasional ones" – as you may be. You have to get out of your comfort zone for a while, but no worries! This is not an extreme sport. It is a triumph of the will over the body! Entrust your body to the freezing arms of the flowing Hornád! If you don't have the body structure of a weightlifter, after a few minutes you probably won't avoid shaking and gnashing your teeth, but the feeling when every cell in your body vibrates and screams "I did it! I did it!" I did it! I did it!"…! It is no shame to get out of the water even after a minute. On the contrary, when common sense commands it, it must be obeyed. Towel, gentle movement to warm up, warm tea and you're "dry". That you had little adrenaline? So back into the water, this time right between the ice blocks and the ice floe. If you have Trout from Paradise nearby, learn how. Fighting ice cubes can be adventurous, and your coffee buddies will surely envy you this experience tomorrow, but caution is never over.
3. Driving your axe into the ice 
Ice Swans, Čaňa Lake, and Košice Seals, Nad Jazerom, Košice
Swan Lake and Ice Swans have little in common. Maybe just the word "swan". Swan Lake Ballet is the epitome of grandeur, lightness, tenderness, and magic, while the Ice Swan Club represents determination, strength, naturalness, but beware – even self-discipline! And in the final, a triumphant feeling! That is why the Košice Ice Swans do not dive into any calm azure Swan Lake, but into the cold waters of the lakes in Čaňa near Košice. After all, they are not some fine creatures, but full-blooded daredevils! In the metropolis of the east, the Košice Seals also meet in Chatová Osada in the Nad Jazerom housing estate every Saturday from November to March. Wind-no-wind, rain-no-rain, snow-no-snow, day or night – no weather and parts of the day that would discourage the Čaňa Ice Swans or Košice Seals. Even so, they enjoy the days when the lakes are frozen and they can pull out axes and saws. So, would you dare? Would you like to join us? You don't have to worry about any novice shame. No one expects you to become hardy on your first dive. It also took Swans and Seals several seasons before their goosebumps turned into hippos. So, the thing is – a swimsuit, a towel, a cap on your head and something pool-like on your feet so you don't hurt them on the rocks. And hot tea. This is a complete list of everything you need for hardening. The hormone of happiness will flood you over so hard after getting out of the water that you won't even want to get dressed again!
4. Finding the courage of a hardy man  
Gemer IceBreakers, Indian Lake, Betliar Pond, Palcmanská Maša, Úhorná Lake, Slaná River
Gemer IceBreakers certainly do not miss the courage to discover new hardening places. They fearlessly break their way between the ice blocks of rivers, lakes, and ponds. Their conquered territories include the Slaná River, flowing through three Gemer districts, the Indian Lake, which is a weaned arm of the Slaná River in Rožňava, the magical Palcmanská Maša in the Slovak Paradise, and the Úhorná Lake in the Volovské vrchy – one of the oldest water structures in eastern Slovakia buils of a quarry stone on the Smolník stream in the 18th century as a water reservoir for mining equipment. Of course, remember Betliar! Betliar's most important cultural monument is in fact its manor house with a park full of rare trees, but the park hides another gem – a picturesque lake that was once used for boating and is today a quiet place guaranteeing not just abundant relaxation but also healthy hardening! Everywhere and still elsewhere, the hardened Gemer Icebreakers dive and swim with pleasure, promoting regularity, succession, adequacy, plus friendship. How do you like their hardy "3+1 P"? How about trying to test your own limits with them? Gain courage, take on a partner, take the necessary things, choose a place, go there and then all you have to do is dive into the water and the endorphin experience.
5. Lasting for at least 3 minutes 
Šírava Beavers, Zemplínska šírava
It's all beavers on the beach at Šírava! No, we don't mean animal architects which gnaw soft trees on the shore and build dams. Actually, such can be found there as well. But we want to introduce to you other beavers – Šírava Beavers – Club of Zemplín Hardeners. They are pretty shy creatures. Too many people get in their way. And (not only) this is why Šírava Beavers ignore the summer beach season. It is hot and noisy for them. They prefer the waters of the Slovak "sea" and enjoy the view of the majestic Vihorlat from autumn to spring, but especially in winter. Will you join them? There is not only strength in unity, as the shabby phrase says, but also a lot of fun, laughter, and even singing – and that is no longer a shabby phrase! Šírava Beavers will certainly introduce you to the secrets and rituals of hardening. Are you wearing a swimsuit, a hat and neoprene slippers? Hooray for the waves of Šírava! In the beginning, the cold water will win over you – it will hold you in its icy arms like in a metal hoop. But you won't give up! Your forces are well balanced. After a short while, you will reconcile as two strong warriors and symbiosis and harmony will prevail. But watch out for that seductress, don't fall under her spell! When the gnashing of teeth and shivering begins, quickly straight out of the water! The hardening maximum in water with a temperature of 0 – 2° C is 20 – 22 minutes, but still, you certainly wouldn't want to have to be pulled out of the water in the end! It is important that you enjoy hardening whether you stand in the water, jump, splash or swim for one minute or ten. Then the indescribable euphoric feeling will come and you will swear at that moment that you will definitely indulge in this again and again. And again, and once again!