Have you also been saying the word ferrata more and more often in your tourist head lately? Do you have any idea what it is? You're right, you've seen, heard and maybe even done some of the "A" iron road – the Via Ferrata. But if you really want to experience the real thing, do it yourself, on your own two feet. What are we talking about?
Today, it's probably mostly about the experience, the feeling, the knowledge and the excitement of a holiday or a day off. The first iron roads, or ferratas, served people as important shortcuts or access to inaccessible places. They were used by soldiers, messengers and later by tourists. The purpose was to make the journey easier and safer, even if it led through dangerous terrain. Today, the situation has turned around, and ferratas are being created to be more challenging and bring more adrenaline and enjoyment to athletes or tourists who are still overcoming new limits.
The ferrata-man is predatory, but sensible and in some ways humble. The math is simple: if he wants to master the next ferrata, he must safely climb the previous one. So we'll equip you with a few hints at the end: Don't think right after the first ascent that you are an experienced "ferrata man" and that you can do everything. Climbing is at your own risk and don't overestimate your abilities. Always go on a ferrata with a partner and be careful of the weather, because being in a storm on a cliff and with a steel rope is not "in", even though it's probably a proper adrenaline rush.
1. Attaching yourself to nature
Via Ferrata Kyseľ, Slovak paradise
Step into the Slovak Paradise, into the gorge that was closed for many years because of the fire. Try Kyseľ with a good dose of adrenaline, because only here you will be perfectly attached to nature! The wilderness in the Kyseľ Gorge is a small miracle. Hidden from human eyes for more than 40 years, nature offers an experience like no other. Armed with quality, hard-soled shoes, a helmet, a saddle or a fall protection, you will discover the most beautiful gorges of the Slovak Paradise from the mouth of the White Stream to the bridge over the Giant Waterfall. Follow the belay fixed rope and walk over the iron climbs. All in challenging terrain with bated breath. Good fitness is of good use, but it is not a prerequisite. Enjoy the climbing route by belaying gradually, using the anchored steel rope in the wall. Be careful, you belay yourself.
The iron route can only be accessed with ferrata equipment. Be sure to bring gloves or a first aid kit and sturdy waterproof footwear. You'll feel more comfortable with your own or rented gear, which you can borrow right in paradise and you'll overcome any initial fears. Don't worry, others have done it too.
Of course, don't forget that you're climbing in the most strictly protected area of a national park, exploring unspoilt nature, so treat it with gentleness and respect. You'll feel better about Barricade or Chapel Falls, Dungeon and from crossing the Giant's Causeway.
Crossing the gorge is only possible from June 15 to October 31, and only in one direction: from the bottom up, upstream. Entrance to the Kyseľ Gorge, as well as all other gorges of the Slovak Paradise, is subject to a fee. If you are planning a longer stay, we recommend you buy a multi-day ticket in Podlesok or Čingov.
The difficulty of the iron ferrata is marked with the letter "C", i.e. moderate difficulty. In the Slovak Paradise you will also find trails – a kind of ferrata at level "A". There are auxiliary chains or climbers, but without belaying.
More information HERE.
2. Leaping into the unknown
Compact Skydive, Spišská Nová Ves
Experience the awesome feeling of freedom from free fall. Parachuting used to be a military sport, later it became a sport and today it is one of the adrenaline challenges just for you. Everything is within your reach and you don't have to dream about flying anymore. Are you a complete beginner? Never mind. Preparation for the leap into the unknown takes place under the supervision of professional instructors. Each leap is original and only for you.
In Spišská Nová Ves you will find an airport and enthusiasts with quality and comprehensive services. They are able to lend you literally the whole sky for a few moments. They will provide you with unique services when you visit the sky, from which you have the earth as in the palm of your hand. They organize tandem jumps as well as skydiving courses for those interested in making their first solo jump. In addition, they run a skydiving school and an ultra light flying school.
Grab those few plums and take a trip – it's worth it. The advantage of the Spiš sky conquerors, besides their professional approach, is above all the beautiful surroundings. Their own planes are specially modified for skydiving. Their people will guarantee you safety to the maximum extent possible, but above all an unforgettable experience, fun and comfort in the air. The activities always take place in nice weather and with a view of the High Tatras, Slovak Paradise, Kráľova Hoľa, historic Levoča, Spišská Nová Ves or Spiš castle. But if Spiš is too tight for you, know that the sky is open everywhere. Professionals will make it available to you via tandem or solo jump also in other places in Slovakia, for example in Bidovce near Košice or in Lisková near Ružomberok.
And how does it all look like in practice? You can always choose whether to train in the wind tunnel or to jump down from the helicopter in tandem with a trusted person. However, a tandem jump from 4,000 metres offers you a hefty dose of adrenaline.
When you arrive at the airport, you'll go through a short preparation, familiarise yourself with the jump and get the adrenaline pumping in your veins. You board a Mi-8 helicopter and spend 15 minutes admiring the flight and the world around you. During the flight, the instructor distracts and allays your fears. Tandem skydiving is a safe experience. This is followed by a jump and a long free fall at 200 km/h for 50 seconds. At an altitude of 1,500 metres, the tandem pilot opens the parachute and you spend the next 5 minutes enjoying the flight and the scenic landscape from a bird's eye view. You can try out the parachute control. The pilot makes the landing for you by gently sliding you into a sitting position. What happens after the jump? That's the whole team congratulating you and guaranteeing an influx of good cheer for a long time. Fulfil your dream of flying a helicopter and taking to the skies just by jumping into the unknown.
More information HERE.
3. Getting wet without rain
Rafting on Hornád, Bodrog (splavujeme.sk)
Have you crawled through the canyon and burrowed under rock overhangs? Have you tasted the adrenaline rush from 4,000 metres and still crave something strong? Are you positive and not afraid of the cold or wet river? Try a new experience on a river trip and see the Edge of the World from a different perspective. You'll get wet without rain, but you'll write in your notebook in one line that you spent your free time playing sports, being outdoors, exploring nature and swimming in the river at the same time, well according to the criterion of cleverness. If your boat is stable, you'll enjoy more, if you succumb to the waves, you'll swim more often. River rafting is just the thing for you and your loved ones. You don't have to start right away in a predatory canyon and an unstable canoe. The calm surface of the Hornád or Bodrog will further entice your senses. For those of a weaker disposition, we have a short course on the calm surface of the Ružín dam at hand. On the rafts you are under the supervision of experienced paddling instructors. But don't hesitate for long; some rivers can only be rafted at certain times of the year. For example, the Hornád Gorge in the Slovak Paradise can be reached from May to the end of October and the river bed must still be at least 70 cm and no more than 110 cm high. You can launch your boat in Hrabušické Mýto and leave the seasickness in Hrdlo Hornádu, near Letanovský Mill or in Čingovo under the Ihla cottage. It is forbidden to go ashore in other places! You can raft only in one or two-seater boats and only with a valid permit (ticket) issued by the river administrator!
If you want to enjoy a cruise outside the national park and want to see life up close, choose for example a 2-hour cruise on the Hornád with an instructor from Kysak to Košice. The water is calm from the bridge, but in Trebejov one rafts the Trebejov rapids. In Kostoľany nad Hornádom there is a small hydroelectric power station, so you can carry the boat 100 m along the shore. Just before the end of the route, the Ťahanovská wave awaits you, where you will also enjoy a dose of adrenaline. Don't worry, even if you accidentally capsize. Nothing will happen, the boathouse and the end of the rafting is 200 m away from you and you will be saved even by those who didn't manage to pull on their swimsuits on the shore. During the rafting you will practice everything you need, sailing through the stagnant water with gentle paddling, avoiding stones, fast water with rapids and "Eskimo". And you should still be able to enjoy the beautiful views of the surrounding countryside.
So, have we convinced you? Reach for a raft; get wet even without rain and you'll get a tailor-made water-wetting experience.
More information HERE.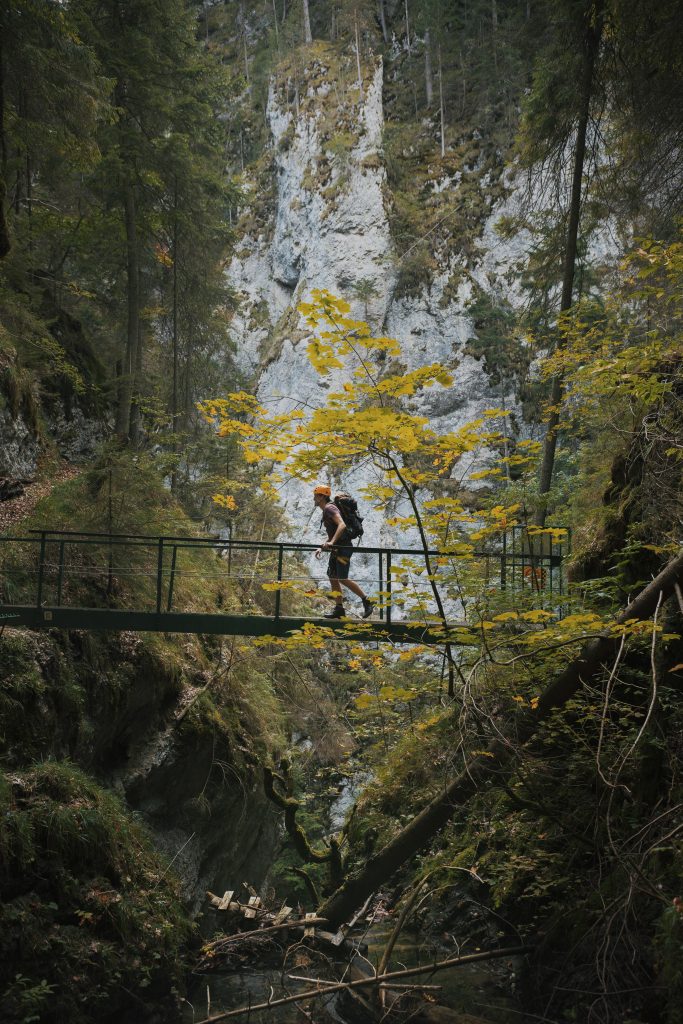 4. Dreaming in the clouds
Hot air balloon flight (balon.sk)
Every good and quality experience has its time. Not everything can be done here and now. But it's your choice whether you prefer pleasure, adrenaline, comfort or boredom. If you choose something special that everyone active will give thumbs up to, a hot air balloon ride is right for you. But beware; such an ultra-special experience is only possible in optimal weather and with favourable wind flow and wind strengths of up to 5 m/s. A strict but safe condition orders you to wake up early. The wind speed limits the balloon flight to early morning or late afternoon. Don't get too hot during the day, because you risk catching strong wind gusts in the heated atmosphere. And that's not adrenaline anymore, it's a gamble.
Well, have you chosen your flight? If you follow the rules, flying is safe all year round, although it's best in winter. Choose experienced balloonists and fly in the morning about two hours after sunrise or in the afternoon two hours before sunset. If you're already getting into the basket, take a nap and listen to important instructions. The principle of hot air balloon flight is based on the physical property of warm air being lighter than cold air. The pilot heats the air in the balloon's cover with a burner, and the balloon takes off. As you descend, watch as the pilot lets the warm air cool or releases it outside the balloon. And how do you actually steer? The strength of the wind and its direction determine where and at what speed the balloon will fly. The wind also has a different direction at different altitudes, which is used to climb or descend to the desired flight level. Depending on this, it will fly at tree height or climb to several kilometres high. In an hour of flight, it should cover approximately 10 to 12 kilometres.
You've done the theoretical training and what about the practical one? Oh, lipstick isn't necessary, but it can be. No need for a special spacesuit or jumpsuit either. Lightweight, functional outdoor clothing would be the most sensible. You won't get anything frozen, unless you get a smile on your lips if your cell phone falls out while you're taking pictures. You might find it on the ground, but you probably won't be able to show it off. And don't worry, it doesn't blow in the balloon, you're flying at the speed of the wind, which carries you away. And since you never know exactly where you'll land, and it's usually in a field, you'd better have sturdy and waterproof shoes. No good balloonist is afraid of mud.
So, have you decided? A balloon is perfect for special moments. Choose the occasion, the place and the date of the flight and just wait for good weather and a moderately stocked credit card. Fly under and over the Tatra Mountains, over the Košice Basin and beside it. It's up to you to whom you want to give this great and unforgettable gift of dreaming in the clouds.
More information HERE.
5. Conquer the stone town
Cukrová homoľa, Zádiel + Dreveník (hell)
Have you ever had something crawling out of you like out of a furry blanket? Or have you climbed over a fence? Have you seen a crawling reptile or maybe a small infant on the edge of your bed? That was an adrenaline rush, wasn't it? Climbing is a technique by which one desires to get somewhere. There are more methods, styles and categories. The one you admire most is probably mountaineering, peak climbing, but we offer you the more accessible one – rock climbing. You can distinguish it into climbing without any technical aids and belays, the so-called free solo climbing, and climbing with belays and technical aids. If you don't have the experience and physical training, you should definitely try the more technical one first. You'll have more time to enjoy the surrounding nature and the adrenaline will flow through your veins just as strongly. There are many paths and routes. There are several associations that will recommend the best one for you. We choose three locations where you won't get lost and you'll fight the earth's weight and your own limits.
Let's start in the Slovak Karst – the largest karst area in Slovakia. Its greatest jewel and climbing paradise is the Zádielska valley. The three-kilometre-long canyon offers beautiful climbing in small walls as well as on long walls. The compact limestone allows for slab and overhang climbing of difficulty up to X. Climbing material is required in several routes, but there are endless routes throughout Zádiel. At least this is the consensus of the rock climbers who return to the canyon repeatedly.
Beware, climbing in the valley is time-limited. You can only climb from August 1 to March 1 of the following year, and even then not everywhere, which is supervised by the conservationists. Camping and building fires in the valley and in the national park is of course forbidden.
The biggest attraction is the pearl of Zádiel and the Slovak Karst – a massive limestone tower – Cukrová homoľa. The monumental obelisk stands in the middle of the Zádiel valley and is a symbol of the most beautiful climbing routes. It is commonly mentioned that there are 80 mapped routes leading to a height of 105 metres. And it's not just the rocks you enjoy. If you're just a little knowledgeable in botany, you'll find that you'll observe various species of mountain plants at the foot of the tower. On the other hand, at the higher altitudes of the walls, dry-loving and thermophilic species are already growing; a nice paradox.
Homoľa is a popular place not only for rock climbers but also for hikers, so take care not to have any collisions that will make the day unpleasant. It got its name from its resemblance to the sugar cone, which until the end of the 19th century still represented the traditional packaging of white gold for the final consumer (it was shaped like a truncated rotating cone). The most ideal starting point to the rock tower is the village of Zádiel, from where you will follow the red hiking trail. It will take you about 25 minutes, a little faster down. However, if you climb it, set aside considerably more time, there is no rush. Unless you rush to Dreveník, the next "in" climbing place in the world. Moreover, the rock town is the only travertine climbing area in Slovakia with more than 120 routes. Fantastic scenery of a hellish rock town, an amazing location near Spišský hrad, a nature reserve with a remarkable name – Dreveník – and yet, no wood anywhere, only travertine! Here you will find the remains of a Slavic hill fort and the Stone Paradise. All exemplarily inscribed on the UNESCO World Heritage List.
Once you're there, take in how many paths the Table Mountain with its rock formations, fissure caves, gorges and chasms has to offer. The most famous are the Hell Gorge and the Stone Paradise, or Stone Town, with all sorts of rock formations resembling towers. Even here, however, climb just enough not to endanger nature and frustrate another visitor.
And last but not least, climb to your heart's content at Rozlomyty, an artificial wall in Košice, where more than 80 routes have been built for your pleasure, reinforcement and encounter with reality. Do climb, my friend!
6. Zigzagging through the forest
Bike trails – Košice (KE.CY)
Have you ever wondered what kind of footprint you leave behind? Carbon, bloody, greasy, double or single wheeled? Did we hit the nail on the head? Do you like to ride, pedal while seeking adrenaline and always looking for something new? Do you also think mountain biking is about something other than riding through the park or on a forestry trail? Biking can indeed be more fun, for example by riding through singletracks that are built only for the needs of adventurous and fun cyclists.
In Košice, this is not just idle chatter, but absolutely serious KE.CY. It's currently over 25km of trails, made up of fifteen trails, two of which are climbs. So zigzag through the woods and try out the eastern bike trails. Enjoy some good switchbacks, undulations, benches, unclipped traverses and flow trails. Think safety; wear a helmet and appropriate clothing. Don't forget to drink and don't get lost in strange words and dates… Instead, take a notebook to write down the available dates when you'll throw yourself into the arms of nature on the outskirts of Slovakia's second largest city. Are you a flow trail enthusiast? Do you even know what singletrack is? Do you know? Check your bike, oil your chain and review some terms. You'll need them as for example, the said singletrack. It's a track just for you, about the width of your bike. As a proper flow-trail rider, you'll avoid classic forest or fire roads that are wide enough for four-wheeled off-roaders. You'll choose narrow but smooth trails that wind smoothly through the countryside. Both technical and rocky sections are incorporated. You pass through tree roots and around corners that are sharp but tricky. You pass over wooden footbridges, hills, valleys, jumps and the like. Around Košice, on the Bankov side of the Čermelská valley, such bike paths have been born under the name KE.CY, Dude, realize this is not rubbish, but trail reality.
The newest trails can be found in the vicinity of Hrešná and Kavečany, the so-called Hriešny trail, which has several parts: the Anthill Trail, the Natural Trail, the Výšlapka Trail and the Flow Trail. It took almost two years to build, but it's worth it. If you dare and have a suitable bike, don't hesitate to saddle up. The accessibility is excellent, the experience even more beautiful. Zigzag through the woods and send a message. We are waiting for the news of the month.